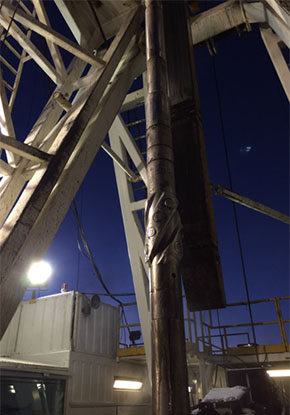 The Optimum Back Reamer - (Patent Pending)

Our first proprietary tool is the Optimum Back Reamer. Traditionally, when drilling is completed, the drill string is retracted entirely, the bottom hole assembly (BHA) is removed, and a reamer is attached to the drill string. This method requires a separate trip and is costly. We have designed a Back Reamer that is attached to the BHA prior to drilling and is MWD retrievable.
While drilling, mud flows freely through the center of the body of the tool, without interruption or impeding Rate of Penetration (ROP). When the rig reaches Total Vertical Depth (TVD), a steel ball is dropped from the rig floor down through the drill pipe. The ball is received by the reamer below the surface, and redirects some of the drilling fluid to activate the reamer and provide cleaning at the cutters. Fluid is allowed to continue to the drilling motor and bit while the Back Reamer is activated. It then smoothes the well bore on it's way back up the hole.
Reaming has number of benefits including reducing casing tearing and hang-ups, and improving bond logs by allowing higher volumes and density of cement. It also leads to fewer remedial drilling trips and better production over the life of the well.
The Optimum Advantage:
Achieves optimum quality reaming while saving a trip. This results in better efficiency, higher production value, and enhanced worker safety.
Does not deploy during drilling until required.
Does not divert torque or energy from drilling.
Smoothes the well bore allowing for higher volume and greater density of cement thereby improving bond logs.
Applies full gauge reaming of the well bore turning an oblong shape into a circle clearing, removing any dog legs and snow drifts on horizontals.
Sets casing with no interruption, saving rig time and resources.